For next year's garden, I have built three raised beds.  One is a 10′ x 8′ rectangle.  One is a 12′ x 4′ rectangle, and one is an 8′ x 8′ x 8′ triangle.  Although it is just August now, I am adding the soil and adding lime to the beds.
Most vegetables like a neutral to a rather alkaline soil, and it takes at least 3 months to neutralize soil.  https://cottagegardenliving.wordpress.com/2015/08/20/dont-wait-til-spril-to-begin-your-raised-bed-vegetable-garden/
Potager or Kitchen Garden
This particular plot is immediately next to my back door, and I walk past the area every time I pass through my garden.  For that reason, I want it to look good–to be bright, to have flowers mixed with the vegetables, and to smell good.  When flowers and vegetables are mixed, it is called a Kitchen Garden or the French would call it a Potager.  I'll use elements of the Children's Vegetable Garden found online at Better Homes and Gardens.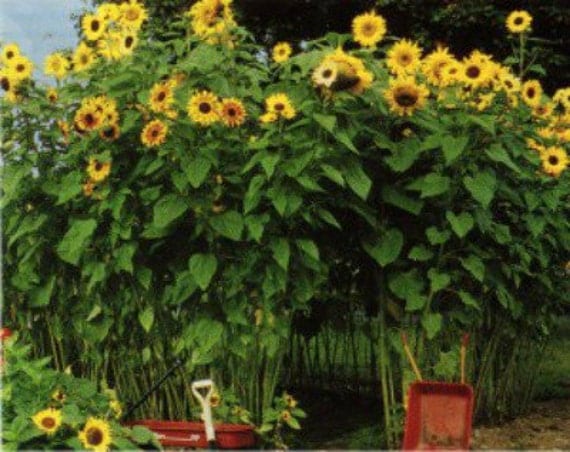 Russian Mammoth Sunflowers
There are fences at the north and west borders of the above plot, and along the northern fence, I'll plant Russian Mammoth Sunflowers.
Immediately in front of the sunflowers, I'll create and plant a mini pumpkin/morning glory obelisk.   https://cottagegardenliving.wordpress.com/2015/08/20/the-mini-pumpkin-obelisk-im-planning-for-next-year-how-ill-use-all-those-little-pumpkins
 Baby Boo
Jack Be Little
Jack Be Little –  Just 3″ across and 2″ high, kids will love these tiny pumpkins, which make great decorations for fall/winter. Each plant bears 6 or 7 fruits. Plant 4 to 6 seeds in groups 6 to 8′ apart, or sow in rows, thinning to one plant every 2 to 3′.
"And the palm-size Jack Be Little—the Mini-Me of the pumpkin world, introduced in 1986—is likely a long-lost acorn squash cultivar or a cleaned-up version of one, with precedents in some of the 17th-century botanical herbals. In The Compleat Squash, Amy Goldman quotes cucurbitologist Harry Paris: "There's little doubt in my mind that Jack Be Little is an Acorn squash, even though the overall profile is similar to a flat Pumpkin or even a Scallop squash. The telltale sign is its ten deep radial furrows."
"JBL tastes like an Acorn," Goldman adds. "If you want some comfort food along the lines of a flaky baked potato—with a bit of whimsy thrown in—bake one whole, cut a lid and scoop out the seeds, drop in some creamy butter and maple syrup, and you've got a splendid breakfast or after-school snack." Yum.
Two other small jack-o'-lantern pumpkin types that make good eating are the Baby Pam(which weighs about four pounds) and New England Pie (four to six pounds). One recipe that's great fun is Pumpkin Stuffed With Everything Good, from Dorie Greenspan'sAround My French Table." http://www.takepart.com/article/2013/10/30/pumpkins-and-squash-and-gourds-oh-my
 Morning Glory Heavenly Blue
Baby Chicago Fig Tree
Fig Tree [There is another fig tree on the other side of the house]
4′ behind the western fence, I am espaliering a fig tree against the house.  I am using the house [along the west] and the garage [to the north] as winter protection.  https://cottagegardenliving.wordpress.com/2015/07/17/how-to-espalier-fig-trees/
I have had the fig trees for a while, but in an unprotected place, winter continually kills them back to the roots.  The trees did not hae enough time to recover and produce fruit; therefore, I am trying them in a new, protected location
 Sugar Snap Peas
Soil temperatures matter as much as air temperature when you're planting. Even peas, which are spring crops that are resistant to light frost once they're growing, won't germinate when the soil is below 39 degrees. – See more at: http://www.hgtvgardens.com/edible/top-10-rules-for-growing-a-kitchen-garden#sthash.EwHY8gWw.dpuf
Because I knew that peas are a cool weather crop, I tried to germinate my peas outside–far too early.  This year, I'll do that inside, and I'll use my deep root seed planters.
https://cottagegardenliving.wordpress.com/2015/08/20/alternative-to-deep-root-training-seed-starters/
 Kentucky Wonder Pole Beans
Along the 10′ stretch of western fence and next to the house, I'll allow Sugar Snap Peas to vine in the spring and fall, and I'll grow Kentucky Wonder pole green beans in the summer.
Beans, peas, and tomatoes are staples of the All-American Garden, also found at Better Homes and Gardens online.
This year, I plan to try growing heirloom tomatoes.  My goal is to find the Holy Grail tomato flavor that I remember from my childhood.
 Brandywine Heirloom Tomato – 1885
Brandywine dates back to around 1885 and features large, beefsteak-like tomatoes, with plants that have leaves similar to a potato plant. Brandywine's fruit also comes in varying colors like red, pink, orange, and yellow.
Old German Tomato
My grandmother was German, and her tomatoes were supreme.  As I look back, I think that part of the superior flavor was that she served them immediately cut from the garden.  They were still warm.  She would peel the tomatoes [no doubt peeling away much of the nutrients], and she would salt them.  The tomatoes would sit and marinate in their salt bath for at least an hour or two–while she made the best sweet tea ever.  [The secret to the tea was that she boiled actual tea leaves in a little pan of water and she allowed them to seep.  While the tea water was still hot, she poured it into a pitcher that had been liberally sown with sugar.  The hot tea water would carmelize the sugar, and Oh, my Lord!]  This makes me want to trail away into what else my grandmother might serve at these meals, but I'll save that for later [hint:  fried Salt Pork, Kraut Dumplings, Sweet Strawberries served over homemade pie crust, Lamb Fries, Cracklin Cornbread, etc., etc., etc.]
 Cherokee Purple Heirloom Tomato
Cherokee Purple heirloom tomato has a sweet, fresh tomato taste and is believed to have come from the Cherokee Indians.
The large fruit features a dark red color that gently turn purplish-green at the shoulders
 Cucumber Sweet Success – Never Bitter
Swiss Chard Bright Lights  Red, orange, yellow, and pink stems
2 Peppers Cal Wonder Reliable bell-type; green ripens to red.
In the small bed next to the back door, I'll grow most ot the Italian Garden, which is primarily a group of herbs.
The Italian plan calls for 3 Genovese Basil
Consider this alternative:
Basil and thyme grow great together. 'Golden Lemon' thyme (Thymus x citriodorus), a low-growing thyme with bright gold leaves, edges 'Red Rubin' and 'Siam Queen' basil
2 Thyme
Salvia officinalis 'Tricolor,' a variegated culinary sage
1 Leaf Fennel
1 Zuchini Costa Romanesco
Italian Flat Leaf Parsley
Oregano
Add 1 Eggplant, 1 yellow squash, 1 Dill
East of the stone walkway, I have planted 2 Methley pines that I'll espalier into a privacy screen.
2 Methley Plums
Like all plum trees, "Methley" plums belong to the Rose family. They also belong to a group of plums called Japanese plums, which tend to include the more vigorous, productive and disease-resistant cultivars. A standard "Methley" plum tree reaches a height of between 10 and 20 feet, with an equivalent spread, and can have clusters of white flowers as early as February, although full bloom generally occurs in early spring. Trees that are 2 to 4 years old begin to bear juicy, sweet, red-skinned and -fleshed fruit from late May through early July. The variety is somewhat self-fertile, although it might bear more fruit if grown near another Japanese plum tree.
Unlike some plum varieties, "Methley" plums need only a short period of winter dormancy. They also require average moisture but can tolerate short dry spells during the growing season. The trees generally grow about 15 to 20 inches each year until mature and need an annual springtime application of balanced fertilizer, generally 8 ounces of a 10-10-10 formula for each year of age A yearly pruning to increase the openness of the tree and allow light to reach its center can help the tree remain healthy and fruitful, as can removal of water spouts and dead, damaged or diseased branches, as they appear.
How, When, & Why to Fertilize Plums from Stark Bros
When it comes to fertilizing plants and trees, the package label is a wealth of information for application rates and frequencies. Most water-soluble packaged fertilizers recommend that the first application be made around bud-break in the spring, once the ground has thawed.
Subsequent applications can vary based on the growing season. Recommendations also differ depending on the severity of the nutrient needs of your soil, plants, and trees.
Ultimately, by reading the package label, you get a basic sense of when to start fertilizing,how much to use, and how often – but do you know when to stop fertilizing?
Here's our recommendation:
Make the last fertilizer application before July 1.
Why we recommend this:
Many fertilizers contain nitrogen, which is absorbed by the roots and boosts vegetative growth (new leaves and branches). This active process requires uptake time and response time for the resulting growth to emerge.
New growth also needs time to "harden off" before winter. Tender new growth is at risk of cold injury if it is forced late in the season, when plants and trees should be shutting down for winter.
Plants and trees that have started hardening off are no longer concerned with actively growing, so fertilizing into fall is often not worth the effort http://www.starkbros.com/growing-guide/article/when-to-stop-fertilizing/
1 Cucumber, 'Sweet Success'. Long, straight cucumbers, never bitter