I grew up in the very southeastern part of what this book outlines as the midwest [just below Poplar Bluff, MO],  and I currently live far east of this area [the South New Jersey Shore]; yet, I have found that many of the lists work for where I live now00as well as where I grew up.
 Rudbeckia
When I was a child at camp, I first began to notice the native Black-Eyed Susans. I loved their wild and free behavior and asked that my friends and family go out and pick them to become part of my wedding flowers. This was not a simple request. The almost wild, perennial, Black-Eyed Susans prefer their native habitats to that of being plucked, shoved into vases, and brought inside. [I think that nature was speaking to me on my wedding day; I must admit that I exhibit the same behavior. ]. The true Black-Eyed Susan is a flower that begs you to love it as it is–out in the woods, along the roadside, and/or in a meadow–Free.
https://cottagegardenliving.wordpress.com/2015/07/14/rudbeckia-sullivantii-goldstrum-is-the-truly-perennial-black-eyed-susan/
Rudbeckias growing in my garden July, 2015
Daylilies
While, as a child, I was exposed to the old-fashioned, orange daylilies that seem to grow wild, I did not encounter the full-ranged of daylilies until many years later, after I married and was living in Mississippi.  At that time, I was living next door to a daylily afficianado and she shared several of her prize plants with me.  When my mother visited from Missouri, I showed her the daylilies that I had come to prize.  She remarked:  'Those are just old flags."  That is what Old Orange was called by my mother's peers in the Bootheel of Missouri.  https://cottagegardenliving.wordpress.com/2015/06/23/lets-hear-it-for-old-fashioned-almost-wild-orange-daylilies/
This purple daylily was great in my summer 2015 garden.
My red Pardon Me is a nice touch of daylily bright red.
Daylilies recommended in this book:
 Grapette – An ever-blooming dward
Siloam Pee Wee
Indian Love Call
 Mary Todd
Hardy Geraniums
Hardy Geranium Rozanne
Hardy geraniums have been the greatest surprise of my experience as an adult gardener. Hardy geraniums are so very unlike the other geraniums that they deserve a different name.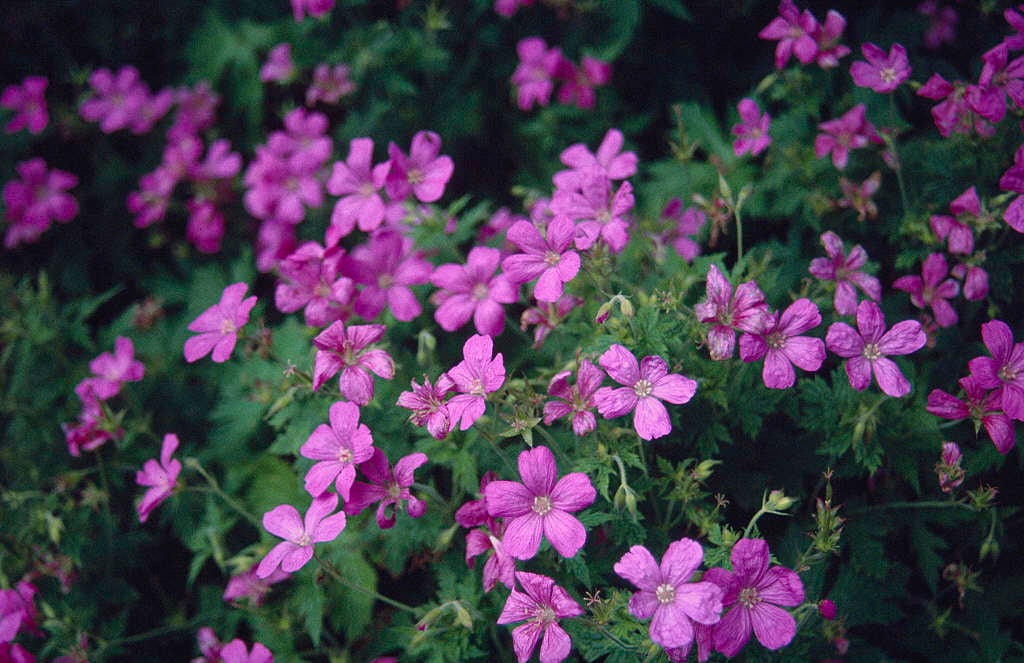 Hardy Geranium Endressii Crane's Bill
Hardy Geranium Endressii Wargrave's Pink
 Hardy Geranium Johnson's Blue
Hardy Geranium Album
Hostas
 Patriot
I did not grow up with hostas.  They are another garden necessity that I discovered as an adult, and I cannot imagine my current garden, which has an abundance of shade, without them.  Hummingbirds love them, too.
 Touch of Class
 Tracy's Emerald Cup
 Aztec Treasure
Heavenly Tiara
 Chartreuse Wiggles
 Blue Mouse Ears
 Stitch in Time
 Silver Threads and Golden Needles
 Formal Attire
 Whirlwind
 Pandora's Box
 Paradigm
 Wolverine
 Pathfinder
 Sagae
 Great Expectations
 Striptease
 Francis Williams
 June
http://www.bhg.com/gardening/flowers/perennials/guide-to-hostas/#page=1
 Blue Angel
 Big Daddy
 Empress Wu
 Northern Exposure
 Striptease
https://cottagegardenliving.wordpress.com/2015/07/14/hummingbirds-love-the-nectar-of-hostas/
Lady's Mantle
This year, I opted for Wild Berry, a Pow Wow Coneflower.  It is a brighter pink. In the above photo, it is partnered with a Patriot Hosta
Salvia
Salvia May Night with Alchemilla Sunshine
Upright Sedum
Sedum Autumn Joy
Sedum Autumn Fire is an improved Autumn Joy
 Sedum Vera Jameson