Today is the first day of autumn and although the leaves aren't really changing here yet, I've purchased some fall plants that have made it seem that the season is farther along than it really is.
I bought 3 of these window box-like, rectangular planters that were already planted.  I bought them at Lowe's, who had just reduced them to 50%, and I couldn't be happier with the plants and they way that they are arranged.  At the bottom of the post, I provide growing tips for most of the plants that I'll mention.
Shooting up from the center of the planter [second photo] is Purple Fountain Grass.  It is not perennial in Zone 7, but I plan to take these planters inside.  I am eager to see how it fares the winter, as an indoor plant.  The petunia-like plant is also an annual here.  The name of this little plant is Calibrachoa.  Although it comes in many different colors, those in the planters are a soft orange. A sweet spiciness  topples over the sides in every direction.  Calibrachoa, an anuual, is also called Million Bells.
Purple Palace Heuchera is in the planters and so is a dark purple ornamental cabbage.
I have planted Gallairdia [Arizona Sun] or Blanket Flower in front of the container [second photo], and there are blue asters, white Montauk Daisies,  and yellow mums all around. In the distance, you see a greener ornamental grass.  That is Japanese Silver.
This year, I also bought a Bloodgood Japanese Maple [third photo].  You see it in the above photograph, and you can also see that the Caladiums still look good.  I am noting this for next year.  The caladiums are the only plants that looked good the entire 2015 garden season. The foreground mums are a mixture of oranges and pinkish purples.
Asters
Asters are one of the staples of the fall garden. Asters come in a range of colors, but the most common asters are blue and bluish purple.  Oranges and yellow oranges are the dominant colors of fall mums and pumpkins.  Since blue and oranges are complements, asters are the perfect flower to pair with other fall plants and decorative items.
Any two colors directly across each other on the color wheel are complements.
 Aster Daydream
Aster New York
Calibrachoa, an anuual, is also called Million Bells.
Gaillardia Arizona Sun – Blanket Flower
Type: Perennials Height: Short 12-15″ (Plant 15″ apart) Bloom Time: Early Summer to Early Fall
Sun-Shade: Full Sun to Mostly Sunny
Large fiery orange red blossoms of Arizona Sun are tipped by a ring of rich flame yellow. Forms a neat mound of lance-shaped, grayish-green leaves. Near end of season, leave spent flower heads for seed to attract goldfinches.
An All-American Selections Award Winner 2005.
– See more at: http://www.bluestoneperennials.com/GAAS.html#sthash.AePKcumf.dpuf
Purple Fountain Grass
Reaches 2 to 4 ft. tall, 2 to 3 ft. wide.
Popular, drought tolerant grass forms neat clumps of purplish maroon blades. Topped by rose red flower spikes summer through fall. Beautiful as landscape specimen or planted in groups. Provides quick annual color in any climate. Unlike some of the other grasses, this cultivar does not reseed. It is perennial in warm climates, but it is not perennial in Zone 7.
 Japanese Silver Grass
A widely used, older variegated variety with narrow, grasslike foliage heavily striped with green and silvery white. Pinkish, feathery flowers in the fall are attractive in dried arrangements. Creates a bold accent or textural contrast in the garden.
 Shenandoah Switch Grass
3′ – 4′ H
Panicum virgatum 'Shenandoah' is a very bright red Panicum, also known as Switch Grass. Foliage emerges bluish-green but rapidly turns burgundy-red by early summer to form a compact, narrow, erect, 3ft tall clump of foliage which is topped by reddish-pink flower plumes. Foliage and seed plumes turn beige in fall and provides good winter interest. One of the shortest Switch Grass varieties.
 Bloodgood Japanese Maple
Slow grower to 15-20 ft. tall, 15 ft. wide.
Heuchera Palace Purple – Coral Bells 
Foliage clumps 12 to 18 in. tall and wide; bloom spikes to 24 in. tall.
Heuchera is perennial here.  The brilliantly colored foliage creates a showy background for the sprays of tiny white flowers. Great choice for borders or adding vivid contrast with green foliage plants. Evergreen.
Purple Ornamental Cabbage
The above photo shows an assortment of ornamental cabbages.
Creeping Jenny dangles down the sides of the containers.
Roundish chartreuse leaves and yellow flowers on trailing stems make this mat-forming perennial ideal for softening the edges of tall urns or hanging baskets.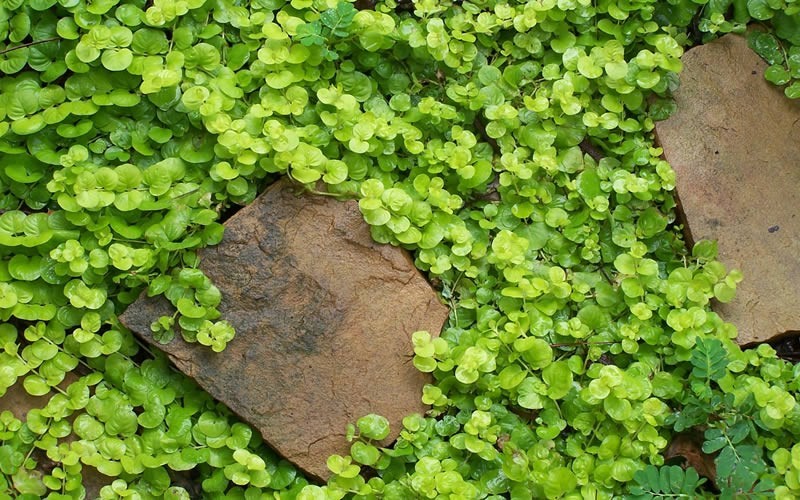 I also use Creeping Jenny [the light green] as a ground cover, and it definitely does that job well.  In the ground, it grows 4 to 8 inches tall, and spreads to 2 feet—rooting as it goes.
Because Creeping Jenny drifts and dangles freely and also because it is a bog plant that likes water, it is a great specimen for naturalizing around waterfalls, ponds, and other water features.
In early spring, Creeping Jenny has tiny yellow flowers.